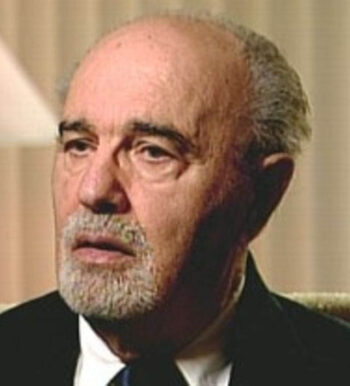 Herman Rosenblat (1929 – 5 Feb. 2015) was a Polish Jew who was deported from the Warsaw Ghetto to a subcamp of the Buchenwald Camp, then shortly before the war's end to the Theresienstadt Ghetto, where he was liberated.
Having gotten into serious financial difficulties in the 1990s, he decided to write down his wartime experiences and spice them up with inventions, such as that his current wife, as a little girl, gave him apples through the camp fence. The book titled, Angel at the Fence, and the movie rights to it, promised to rake in millions, thus solving Rosenblat's financial woes. Oprah Winfrey featured him prominently twice on her show, boosting his fame and thus sales prospects.
Mainstream researchers quickly found out, however, that his wife had never been anywhere near the camp where Rosenblat had been incarcerated during the war. Other aspects of his tales were considered false as well, such as Rosenblat's claim that he was scheduled to be gassed at the Theresienstadt Ghetto on 10 May 1945, and survived only because he was liberated a few hours before that. However, this ghetto had been handed over to the International Red Cross on 1 May, and no one has ever claimed that there was a homicidal gas chamber at Theresienstadt Ghetto, nor is there any other evidence to suggest there was.
When the truth emerged, Rosenblat's original book contracts were cancelled, yet not his contract to produce a movie. He eventually admitted having invented his love story, but insisted that, although the story existed only in his mind, he still believed it:
"'I wanted to bring happiness to people,' he said. 'I brought hope to a lot of people. My motivation was to make good in this world.'" (Bone 2008)
Because this fake story is so beautiful after all – the world wants to be deceived – it appeared as a book a short while later, under a different title, a "novel" presumably based on Rosenblat's memoirs (Holt 2009).
(For more details, see Sherman 2008; Vice 2014a&b; and various articles published by the magazine New Republic at https://newrepublic.com/search?q=Rosenblat. For a remarkable 2009 interview with Rosenblat on ABC News, see https://www.dailymotion.com/video/x2qusht.)