Four witnesses claimed that, at the Janowska Camp near Lviv, a machine was used to grind down bones that were left over from open-air incinerations of corpses, which are said to have been extracted from mass graves of German murder victims. These witnesses are: Heinrich Chamaides, Moische Korn, David Manusevich and Leon Weliczker.
Their claim was given a lot of attention and publicity by the Soviets, who had a team of experts examine and describe this device in detail, and photos were taken of it as well, one showing three of the aforementioned witnesses (Chamaides, Korn, Manusevich). The expert report does not indicate whether any samples of remnants in the mill's drum were taken to see whether it contained any traces of human bones. This device is today exhibited at a museum in Kiev with the usual orthodox claims about it.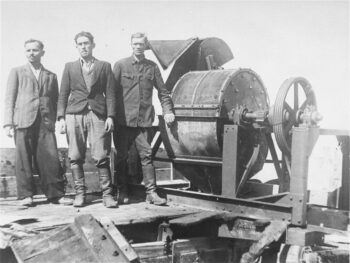 A thorough 2013 investigation of all the documentary and material traces of this device resulted in the following conclusions, among others:
The device was a standard "ball mill," manufactured by the Grusonwerk Company of Magdeburg, Germany.
The machine was found in an unknown location, but certainly not in the Janowska Camp. No photograph shows the machine against a recognizable background, and one photo, in which Moses Korn is depicted as standing right next to it, is a clumsy photo montage.
The Soviet commission's claim that the machine was designed specifically to grind human bone fragments is a lie. This type of ball mill was primarily designed to crush stones.
The mill was most likely used to crush gravel for roadwork on the German road-construction project Durchgangsstraße IV (Thoroughfare IV), linking Lviv to Taganrog with a highway 2,175 km in length. Another stretch linked the German city of Breslau (today's Wroclaw) to Lviv via Krakow. A German report of 22 June 1942 indicates that 18,365 Jews were working at road-construction projects, among them this large project.
Weliczker confirmed this connection when he spoke of a camp unit assigned to road construction, and of another unit "breaking up the tombstones and building the main road with the broken rock." The tombstones were therefore reduced to gravel, which required exactly a ball mill of the type found.
The witnesses who mentioned the machine probably really had something to do with it, but in the context of road construction. That three of them showed up side by side next to the ball mill in one photo proves that they met after the war, communicated with each other, and collaborated with the Soviet investigators as a group. Hence, their testimonies given to the Soviets were not independent, but rather most likely choreographed.
(For more details, see Schwensen 2013a; Mattogno 2022c, pp. 518-522.)