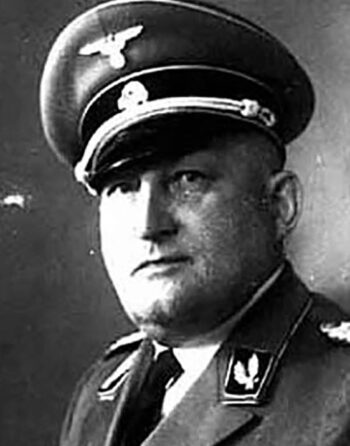 Richard Glücks (22 April 1889 – 10 May 1945), SS Gruppenführer, head of Office Group D of the SS Economic and Administrative Main Office (Wirtschafts- und Verwaltungs-Hauptamt), and as such head inspector of the concentration camps. Glücks's office was responsible for organizing the German concentration camps and making sure that they were optimized to deliver a maximum in capable forced-inmate laborers to Germany's war industries.
Starting in 1942, and due to wartime needs, Glücks's main focus was on changing the principal role of Germany's concentration camps from political "reeducation" and oppression to a reliable source of forced labor for the war industries. To this end, he repeatedly ordered all camp commandants to improve the inmates' living conditions, to do anything in their power to reduce inmate mortality, and to implement extremely costly improvements of sanitary and healthcare conditions, particularly for the Auschwitz Camp. Such measures were obvious, given Germany's increasingly urgent need for labor. And they are completely at odds with any alleged mass-murder scheme in the camps. (See Mattogno 2016a, esp. pp. 13-72.)
On 10 May 1945, 10 days after Hitler and Goebbels committed suicide, Glücks did the same.