At the Buchenwald Camp shortly after its occupation by U.S. American troops in April 1945, the U.S. Armed Forces' Psychological Warfare Division (PWD) set up a table displaying items meant to prove National-Socialist atrocities. For "educational" purposes, the local population was forced to walk by this table and hear a U.S. official in uniform explain to them what they were seeing.
Among the items displayed were pieces of skin with drawings, allegedly consisting of tattooed human skin, a lampshade, and also two shrunken heads.
One of these shrunken heads was presented during the Nuremberg International Military Tribunal (IMT) as evidence of the "pathological Nazi culture" (IMT, Vol. 3, p. 516). The official U.S. Army report coming with this head claimed:
"There I also saw the shrunken heads of two young Poles who had been hanged for having relations with German girls. The heads were the size of a fist, and the hair and the marks of the rope were still there."
How anyone could deduce this story from glancing at a set of shrunken heads mounted on little pedestals is beyond comprehension.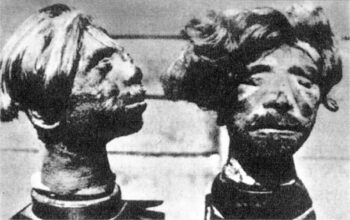 A photograph of these two shrunken heads shows, however, that both heads' skin is of dark complexion, hence they are not from ethnic central Europeans. Furthermore, both faces clearly show remnants of war paint, as is used by indigenous peoples of the Americas. They are also the only ethnic groups worldwide who have developed a "pathological culture" of shrinking the heads of killed enemy warriors.
Therefore, these are most likely shrunken heads from two South- or Central-American indigenous warriors. They were probably found by a European or North-American anthropologist, colonist or conqueror, who brought them back either to Europe or North America. There they were mounted on pedestals and were either part of a private collection or became an exhibit at some anthropological museum. They were taken from this collection by individuals of the U.S. PWD, and added to the horror collection of the Buchenwald re-education table.
After the IMT was over, the two heads disappeared tracelessly and have not been seen since. That alone is very indicative.
(For more details, see Rudolf 2023, pp. 94-98; Irebodd 2008, 2009.)