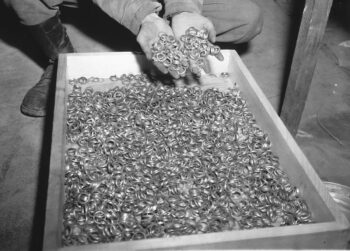 For years, the United States Holocaust Memorial Museum has posted this image on the encyclopedia section of their website, currently (March 2023) with the following explanation:
"Wedding rings taken from prisoners. The rings were found near the Buchenwald concentration camp following liberation by US Army soldiers. Germany, May 1945."
Note that these objects all look alike. They have the same shape and the same size. Wedding rings, however, come in all kinds of sizes, fitting different-size fingers, and they come in many different styles, colors (= different precious-metal alloys), shapes, and many of them with jewels embedded. (See the second image.)
The first photo, taken by the U.S. Army, shows industrial clippings of metal tubes of a constant diameter, probably scrap metal from some production line that was cutting tubes to a certain length. The photo is part of the U.S. psychological warfare department's operations framing the German nation with horrible crimes committed by presenting false evidence, such as these rings, lampshades allegedly made of human skin, soap made of the fat of concentration-camp victims, and shrunken heads from murdered camp inmates.