Corporate Censorship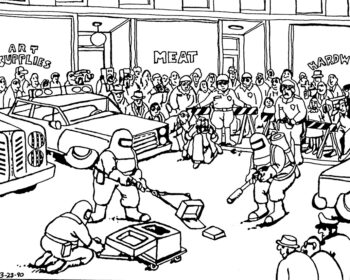 As long as plenty of companies compete with each other offering similar services, chances are high that someone will offer these services – even to individuals or groups whose views are rejected by many if not most in a society. However, the situation changes as market shares in a certain market get more and more concentrated in the hands of a few players. If one player is absolutely dominant in a market or even has a total monopoly, censorship by that company – meaning refusal to offer services – can result in a censorship more effective than is even possible by governments with oppressive laws.
The following are some areas in which Holocaust skeptics face corporate censorship – in many cases severe enough to force them out of business:
Book printing: large print-on-demand outlets, such as Ingram Spark/Lightning Source (Ingram Content Group), Lulu and CreateSpace (Amazon), have all banned material contesting the orthodox Holocaust narrative. Smaller print outlets drop Holocaust-skeptical works suddenly once "made aware" or put under pressure by leftist and/or Jewish lobby groups.
Media sales: Amazon dominates the market of media sales in books, eBooks and audio books. In early 2017, after massive pressure primarily from Jewish groups, Amazon banned material contesting the orthodox Holocaust narrative, and so did Barnes & Nobles. Amazon's subsidiaries AbeBooks and The Book Depository followed a year later. Other major book sellers (like Walmart and Target) have done the same over the years.
Book distribution: In the United States, book distribution is a monopoly by the Ingram Content Group. In early 2022, this firm banned all material contesting the orthodox Holocaust narrative. As a consequence, all books with skeptical contents disappeared from the U.S. book market everywhere, offline and online, except for small outlets buying directly from the publishers of such books.
Advertisement: the entire mainstream media market is inaccessible to Holocaust skeptics worldwide. While ad campaigns could still be launched in the 1990s, massive Jewish lobby campaigns have since resulted in the implementation of zero-tolerance policies in most mainstream media for ads on skeptical material.
Social media: YouTube banned material contesting the orthodox Holocaust narrative in the summer of 2019. Vimeo followed this example a year later. This cuts out the vast majority of the entire worldwide audience for streaming content video. Other mainstream social media, such as Twitter and Facebook, have increased their censorship behavior in this regard over the years as well.
Credit-card processing: gateway providers, meaning the companies who connect a vendor's credit-card reading equipment of sales websites to banks, have systematically introduced zero-tolerance policies for content challenging the orthodox Holocaust narrative. There are today only a few tolerant providers left.
Banking: PayPal, Wise, Square and other major players in the field of internet banks have all banned companies selling material contesting the orthodox Holocaust narrative. If caught violating this term, accounts are closed and responsible individuals banned for life. Brick-and mortar banks, particularly in Europe but also some in the U.S., even in countries where Holocaust skepticism is not a crime, frequently close bank accounts of Holocaust skeptics and companies selling such merchandise, refusing to do business with them.
(For more details, see Rudolf 2023a.)
Government Censorship
Government Contracts
Although the First Amendment of the U.S. Constitution prevents Congress from passing laws restricting free speech, laws exist on all levels of government that prohibit government agents or agencies from doing business with individuals or companies involved in spreading views contesting the orthodox Holocaust narrative – which is automatically considered to be "anti-Semitic" and thus discriminatory in nature.
Penal Law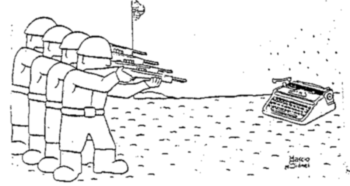 The most barbaric form of censorship is via enacting laws which allow governments to incarcerate individuals for voicing peaceful dissent on any topic. In the present context, "peaceful" means an opinion that does not advocate, justify, promote or even condone the violation of anyone's civil rights.
In the wake of a rising number of skeptical voices on the mainstream narrative starting in the mid- to late 1970s, an increasing number of governments, particularly in Europe, have introduced new sections, or amended and reinterpreted older ones, enabling them to fine and incarcerate Holocaust skeptics. The first country to make this formal step from liberty to dictatorship was Israel in 1986. Here is a chronological list of countries that have followed this horrible example since then:
Year

Country

Max. Term

1986

Israel

5 years

1990

France

1 year

1992

Austria

20 years

1994

Germany

5 years

1995

Belgium

1 year

1995

Netherlands (conditional)

1 year

1995

Liechtenstein

2 years

1995

Switzerland

3 years

1997

Luxembourg

6 months

1997

Slovenia (conditional)

2 years

1998

Poland

3 years

2001

Slovakia

3 years

2001

Czechia

3 years

2002

Romania

5 years

2002

Australia (HRC)*

–

2007

European Union (recommendation)

3 years

2007

Portugal (conditional)

5 years

2010

Hungary

3 years

2011

Bulgaria

5 years

2012

Lithuania

2 years

2014

Russia

3 years

2014

Greece (conditional)

3 years

2016

Italy

6 years

2017

UK (conditional)

2 years

2021

Ukraine

5 years

2021

Bosnia

5 years

2022

Canada

2 years

conditional: only in conjunction with verbal abuses and/or threats.
* A Human Rights Commission can issue a cease-and-desist order. If ignored, it can lead to prosecution for ignoring a government order.
Holocaust skepticism is covered by the First Amendment to the U.S. Constitution. The Spanish Constitutional Court decided in 2007 that Holocaust skepticism is legal in Spain, while justifying acts of genocide is not.